Czech – American relations: A roadmap for the future
Partner: Prague Centre for Transatlantic Relations
Author: John K. Glenn, Bruce P. Jackson, Lukas Kovanda, A. Wess Mitchell, Cameron Munter, Tomas Pojar, Leah Scheunemann, Jiri Schneider, Alexandr Vondra
Uploaded: Feb 18, 2015
Language: English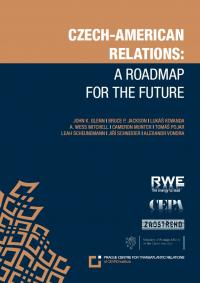 The Prague Centre for Transatlantic Relations of the CEVRO Institute (PCTR) published with the kind support of a non-profit organization Zaostřeno, o.p.s. and RWE Česká republika a bilingual publication Czech – American relations: A roadmap for the future. The publication evaluates Czech-US relations from the security, trade, cultural and geopolitical perspective over the last 25 years. The core parts of the publication are an analysis of the causes of their current stagnation and recommendations on how to continue developing them in the future.
The authors are Czech (Lukas Kovanda, Tomas Pojar, Jiri Schneider, Alexandr Vondra) and foreign experts with personal relations to the Czech Republic (John K. Glenn, Bruce P. Jackson, A. Wess Mitchell, Cameron Munter, Leah Scheunemann) across the spectrum of opinions. Publication's editor is the PCTR director Dr. Alexandr Vondra. A physical copy of the publication can be obtained (for free) at the CEVRO Institute´s library (Jungmannova 17, Prague 1).
Content of publication:
Introduction (Alexandr Vondra)
The U.S.-Czech Strategic Relationship: A Roadmap for the Future
in Security and Defense (Jiri Schneider)
Small States and Worthless Allies (Bruce P. Jackson)
Beyond the Hangover: U.S.-Czech Relations in the Obama Administration (John K. Glenn)
Small States and Geopolitical Change: The Case of the Czech Republic (A. Wess Mitchell and Leah Scheunemann)
The Czech-US Economic and Trade Relations after 1989 (Lukas Kovanda)
Looking Forward: U.S.-Czech Relations (Cameron Munter)
Czech-American Relations and Support of Liberal Democratic Forces Around the Globe (Tomas Pojar)
Czech-American Relations: A Roadmap for the Future (John K. Glenn, Bruce P. Jackson, Lukas Kovanda, A. Wess Mitchell, Cameron Munter, Tomáš Pojar, Jiří Scheinder and Alexandr Vondra)
Publication only in English is available here.
... More information
Keywords: Global Security, Nuclear, Oil and Gas, USA, NATO, Russia, EU, United Nations, Middle East, Slovakia, Czech Republic, Hungary, Poland, Ukraine, Democracy, Education, Human Rights, V4, Europe, Afghanistan, Economic Security, Energy Security