Ukraine's hot political autumn
Partner: Central European Policy Institute
Author: Jana Kobzova
Uploaded: Sep 24, 2015
Language: English

The next few months were going to be difficult for Ukraine even without last week's events: the country's economy is in trouble and the war in its eastern provinces continues with no end in sight. Even before last week, the best Ukraine could hope for in the next 12 months was that the conflict in the east would continue to burn but would not spill into other regions. A deal with private creditors has also given Kyiv breathing space though more tough reforms need to follow.
These tasks have just become even more challenging. The return of the violent protests to Ukraine's capital was seen by many as yet another signal that the authorities are losing the monopoly on violence: the attack in Kyiv came on the heels of a July daytime shootout in Mukachevo, in the westernmost part of Ukraine, which has left one person dead and several adherents of right-wing Pravy Sektor on the run. The political crisis has deepened, too, with the departure of Oleh Lyashko's Radical Party from the ruling coalition.
... More information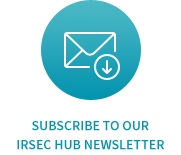 Events Calendar
Upcomings Events / Highlights
No results for this time.
Subscribe to our IRSEC Hub newsletter
Get the latest updates from IRSEC Hub partners right to your inbox.
×