The Czech Republic in Common Security and Defence Policy of the EU: Audit and Perspectives
Partner: Prague Centre for Transatlantic Relations
Author: Michal Kořan, Petr Nečas, Jan Österreicher, Bohuslav Pernica, Jiří Šedivý, Pavel Štalmach, Alexandr Vondra
Uploaded: Apr 16, 2015
Language: English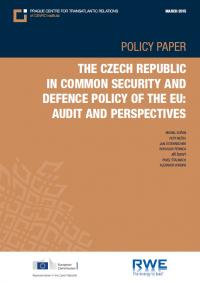 The Prague Centre for Transatlantic Relations of the CEVRO Institute (PCTR) realized, with the support of the Representation of the European Commission in the Czech Republic, in 2014 the project "The Czech Republic in Common Security and Defense Policy of the EU between the Past and the Future: Audit and Perspectives", which was held in the occasion of the 10th anniversary of the Czech Republic in the European Union. One of the aims of this project was to develop a policy paper with active participation of selected experts. Now, the publication is available for download in PDF format for free.
The authors are Michal Kořan, the Deputy Director of the Institute of International Relations; Petr Nečas, a teacher and former Prime Minister; Jan Österreicher, the guarantor of Security studies program at the CEVRO Institute and Director of Military Health Institute of Armed Forces of the Czech Republic; Bohuslav Pernica, Institute of Regional and Security Sciences, Faculty of Economics and Administration of University of Pardubice; Jiří Šedivý, the former Chief of the General Staff of Armed Forces of the Czech Republic, guarantor of MPA program - Safety and Crisis Management at the CEVRO Institute; Pavel Štalmach, Military Intelligence and former deputy for the economy of Minister of Defense; Alexandr Vondra, the Director of the Prague Centre for Transatlantic Relations and former Minister of Defense and former Minister of Foreign Affairs of the Czech Republic.
We would also like to thank our partner RWE Česká republika for their financial support of this policy paper. A physical copy of the publication can be obtained (for free) at the CEVRO Institute's library (Jungmannova 17, Prague 1).
Content of policy paper:
Pavel Štalmach: THE SECURITY ENVIRONMENT – YESTERDAY, TODAY AND TOMORROW (A VIEW FROM PRAGUE)
Petr Nečas: A EUROPEAN "ARMY" AND THE STATE SOVEREIGNTY ISSUE: DECISION-MAKING IN THE EUROPEAN COUNCIL
Alexandr Vondra: THE CZECH REPUBLIC BETWEEN NATO AND CSDP
Jiří Šedivý a Alexandr Vondra: EUROPEAN MILITARY STRUCTURES AND CZECH POSITION AND POTENTIAL
Jan Österreicher: EU MISSIONS
Michal Kořan: CSDP AND VISEGRAD GROUP
Bohuslav Pernica: MILITARY MANPOWER, SPENDING AND PREFERENCES
... More information
Keywords: Global Security, USA, NATO, Russia, EU, Middle East, Czech Republic, V4, Africa, Europe