Mechanism of Voter Mobilisation of ĽSNS and Marián Kotleba
Partner: Centre for European and North Atlantic Affairs
Author: Kamil Gregor, Juraj Medzihorský, Peter Spáč, Michal Škop, Petr Voda
Uploaded: Apr 06, 2015
Language: English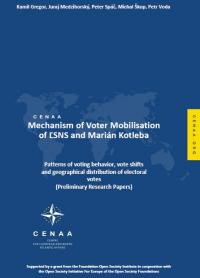 CENAA is pleased to introduce a set of four research papers entitled "Mechanisms of Mobilisation of voters of ĽSNS and Marián Kotleba", writen by Kamil Gregor (Kohovolit.eu), Juraj Medzihorský (Central European University), Peter Spáč (Masarykova Univerzita), Michal Škop (Kohovolit.eu), Petr Voda (Masarykova Univerzita).
Based on a detailed analysis of previous electoral results of People's Party Our Slovakia (Ľudová strana Naše Slovensko) and Marián Kotleba, the four texts create a solid bloc of research with a focus on Marian Kotleba's electorate. They bring substantial and interesting findings which apply not only to 2013 regional election but may be used to project the perspectives of LSNS in national politics. Their outcomes may also serve as a basis for a further research, also of qualitative nature.
Research papers are part of the project "Extremist Breakthrough in the Low Turnout Elections: A Lasting Momentum?", focused on mapping and analysis of voting behavior with primary focus on electoral success of Marián Kotleba, along with further expected development in the region of Banská Bystrica.
... More information