Baltic-German Strategic Engagement: Realignment after the Eurocrisis?
Partner: Latvian Institute of International Affairs
Author: Aldis Austers, Kārlis Bukovskis, Kai-Olaf Lang, Andris Sprūds
Uploaded: Feb 18, 2016
Language: English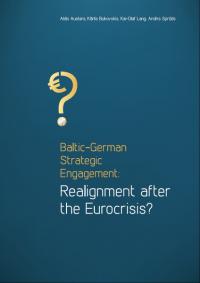 The Baltic countries and Germany have engaged in a constructive dialogue and cooperated extensively over the last two decades. Germany supported and contributed to the Baltics' EuroAtlantic integration and the eventual Europeanization of the new member states. Although somencing mutual understanding led to a gradual convergence of positions on issues such as transatlantic relations, the Eastern Partnership and Russia, and energy security. Economic asymmetry notwithstanding, the Baltic countries welcomed the foreign direct investments and business management experiences of Germany. Moreover, the intensification of mutual trade relations facilitated the more recent recovery after the considerable economic downturn in the Baltic countries. Access to Germany's market was instrumental for the export oriented countries, especially in the neighbourhood, to pull their economies out of the recession. Europe's economic decline and accompanying Eurocrisis, however, has led to wider and more fundamental repercussions. The Eurocrisis essentially transformed the community's internal and regional configuration and mutual perceptions.
... More information
Keywords: Economic Security, EU, Europe