The European Security Force – a step-by-step approach towards an European Army?
Partner: Casimir Pulaski Foundation
Author: Dr. Katarzyna Pisarska, Senior Fellow at Foreign Policy Programme of Casimir Pulaski Foundation
Uploaded: Feb 20, 2018
Language: English

To stir the imagination and raise the level of European ambitions, the EU Member States should push for the establishment of a European Security Force. The goal of such a new entity would be to strengthen EU's capacities in the field of security, without infringing on the sovereignty of EU member states, while remain in sync with NATO capabilities. The step-by-step approach foresees creating operating units under joint-command in areas of cybersecurity, disinformation, coastguard and general representation of the EU as a security actor. The Pan-European Unit for Cyber Threats and Misinformation would deal with preventing cyberattacks on critical infrastructure of member states and with combatting disinformation spread by hostile states and terrorist groups.
... More information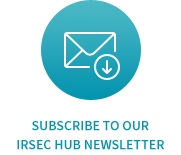 Events Calendar
Upcomings Events / Highlights
No results for this time.
Subscribe to our IRSEC Hub newsletter
Get the latest updates from IRSEC Hub partners right to your inbox.
×