Israel and International Community: Towards Lawfare?
Partner: Deutsch Security Square
Author: Jakub Zahora
Uploaded: Jun 30, 2015
Language: English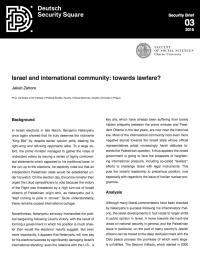 Jakub Zahora argues that following the election late in March, Israel is likely to face ever increasing threat of "lawfare" and will continue to alienate even traditional allies in the international community, including the United States. The case of Iran's nuclear programme highlights how Israel's international image and its security and military policies are inseparable. While this is being realised in Israel, the brief concludes, the response against these efforts may turn futile and even counterproductive, eventually influencing Israeli leaders to contemplate actual change in their policies.
... More information
Keywords: Global Security, USA, EU, Iran, Israel