PCTR Newsletter (11/2015)
Partner: Prague Centre for Transatlantic Relations
Author: Prague Centre for Transatlantic Relations (PCTR)
Uploaded: Dec 18, 2015
Language: English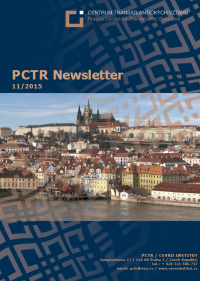 The Prague Centre for Transatlantic Relations of the CEVRO Institute (PCTR) offers a possibility to download the latest issue of PCTR Newsletter. A summary of important news in the field of transatlantic relations is included, together with the Bulletin, which contains information about our past events and activities.
The last issue can be found here and previous below:
Do not forget to follow us on Facebook, YouTube and Twitter.
... More information
Keywords: Cyber Security, Global Security, USA, NATO, Russia, EU, United Nations, Middle East, Czech Republic, Poland, Syria, Ukraine, V4, Israel, Asia, Europe