Introduction to the Analysis of Program Documents of Selected Slovak Political Parties 2014 European Parliament Elections
Partner: Centre for European and North Atlantic Affairs
Author: Vicenová Radka, CENAA
Uploaded: Jun 14, 2014
Language: English

Even though European Parliament elections are considered to be
rather second-order, i.e. with low attraction for voters, the discussion
within the pre-election campaign brought up a wide range of important
topics from various areas of public life. However, it often includes a
much larger agenda than any member of European Parliament can
influence from his/her position; at the same time, it is not entirely rare
that a substantial part of the election program of political parties is
formulated in very general terms, without specific proposals or
solutions. Despite of this, European Parliament elections provide us
with a unique opportunity to reflect on the attitudes of major political
parties in the country on key issues and to map their compliance and
consistency during the whole election period.
... More information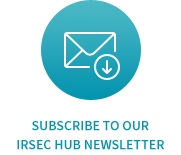 Events Calendar
Upcomings Events / Highlights
No results for this time.
Subscribe to our IRSEC Hub newsletter
Get the latest updates from IRSEC Hub partners right to your inbox.
×