European Cybersecurity Journal
Partner: The Kosciuszko Institute
Author: Multiple Authors
Uploaded: Mar 10, 2016
Language: English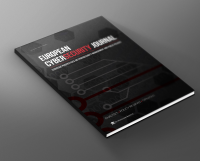 European Cybersecurity Journal is the only European quiarterly magazine entirely devoted to cybersecurity. Each issue present a holistic overview of current cybersecurity issues, gathered from specialists form EU and USA.
In April's issue Commender W. Goździewicz (Legal Adviser to the NATO Joint Force Training Centre) present his pioneer attempt to define legal status of "Cyberwarriors" under Law of Armed Conflict. Researchers of prominent Finnish VTT Research Institute discuss European needs for cybersecurity specialists and experts from leading IT companies such as Microsoft, Cisco and EY present their views on technological aspects of ensuring cybersecurity. Those are only few examples of European Cybersecurity Journal's content.
Find out more on our website: http://cybersecforum.eu/journal/firstissue/ or contact us directly under editor@cybersecforum.eu.
The first issue of the European Cybersecurity Journal is available on our website free of charge.
... More information
Keywords: Cyber Security, Global Security, NATO, EU, Poland, Education, V4, Europe