The War republics in the Donbas one year after the outbreak of the conflict
Partner: Centre for Eastern Studies
Author: Tomasz Piechal
Uploaded: Jul 01, 2015
Language: English

More than one year since the first pro-Russian moves in the Donbas, separatists have taken control of parts of the Donbas and Luhansk oblasts but are still unable to form truly functioning administrative structures. The exercise of power by the central administration of the so-called 'Donetsk People's Republic' (DPR) and 'Luhansk People's Republic' (LPR) is restricted to resolving problems as they arise, while administration proper is the prerogative of the local authorities reporting to them which had been performing this function before the conflict broke out. The way the situation is developing and the fact that access to information is restricted make it difficult to determine the structure of the separatist government in more detail, precisely how it is organised, and what the internal hierarchy is like. The overriding goal of the governments of the DPR and the LPR is to maintain and develop their military potential. In effect, the lives of the so-called republics are subordinate to military goals.
... More information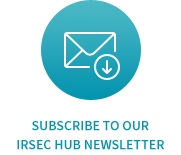 Events Calendar
Upcomings Events / Highlights
No results for this time.
Subscribe to our IRSEC Hub newsletter
Get the latest updates from IRSEC Hub partners right to your inbox.
×