Current Trends in Jihadist On-line Magazines
Partner: Centre for European and North Atlantic Affairs
Author: Radoslava Haršányová, Marek Hrušovský
Uploaded: Jan 22, 2017
Language: English

Despite increased efforts in the fight against terrorism in the last decade we are witnessing a spread of jihadist activities in cyberspace (online). A rising number of Islamist activities have taken place on the internet. These include spread of propaganda, recruitment activities, attacks preparation and others activities aimed at support of jihadist goals. At the same time the conflicts in Syria and Iraq have revealed a great potential of foreign fighters from Western countries who joined the ranks of Islamists, some of them after contact with online Jihadist literature. This paper brings comparative insight into English written Islamist online magazines including the Islamic State Magazine Dabiq (Al Hayat Media) and Al-Qaeda al-Jihad Organization in the Arabian Peninsula magazine Inspire (Al Malahem Media).
... More information
Keywords: Media, Middle East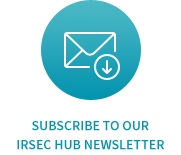 Events Calendar
Upcomings Events / Highlights
No results for this time.
Subscribe to our IRSEC Hub newsletter
Get the latest updates from IRSEC Hub partners right to your inbox.
×