Institute of International Relations
Joined IRSEC Hub: Aug 26, 2014
Abbreviation: IIR
Established: 1957
Head name: Petr Kratochvíl
Head title: Director
Address: Nerudova 3, 118 50 Praha 1
Country: Czech Republic
Contact email: iir@iir.cz
Contact number: +420 251 108 111

The Institute of International Relations is an independent public research institution which conducts scholarly research in the area of international relations. Its founder is the Ministry of Foreign Affairs of the Czech Republic.
Main activities of the Institute of International Relations comprise of:
Basic and applied research of international relations, often in the framework of Czech, as well as international, projects (on average six international and eleven Czech projects a year).
Publication activities in the form of proceedings, periodicals, treatises, articles in scholarly literature, and in policy papers.
Organization of scholarly events - conferences, seminars, roundtable discussions and presentations (twenty per year).
Cooperation with many governmental organizations and NGOs such as the Ministry of Foreign Affairs, Czech Academy of Science, University of Economics in Prague, Charles University, Trans European Policy Studies Association, European Consortium for Political Research, etc.
IIR public library services - the library archives contain some 70.000 (especially foreign) publications, including 400 periodicals.
Educational activities, such as student internships and a Ph.D. studies programme which the IIR organizes in co-operation with the Metropolitan University Prague (MUP).
... More information
Partner's Publications
Partner's Articles
Partner's Events
Partner's Opportunities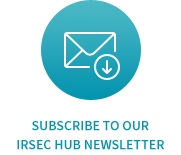 Events Calendar
Upcomings Events / Highlights
No results for this time.
Subscribe to our IRSEC Hub newsletter
Get the latest updates from IRSEC Hub partners right to your inbox.
×