Benjamin Tallis: Migration Crisis in the Mediterranean
Partner: Institute of International Relations
Event date: Apr 24, 2015
Deadline for registering: Apr 23, 2015
Venue: On-line presentation, Czech Republic
Category: Other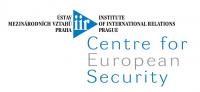 Watch a video with Benjamin Tallis who answers following questions: What are the causes of the current migration crisis in the Mediterranean? What action has the EU taken? What more does the EU need to do?
https://www.youtube.com/watch?v=idqaRo_u_hU
About Benjamin Tallis: Benjamin Tallis is researcher and co-ordinator of the Centre for European Security of the IIR Prague. Among his areas of interest are for example European Security or Borders and the Politics of Bordering.
... More information
Keywords: Global Security, EU, Middle East, Democracy, Human Rights, Europe