Lucia Najšlová
Partner: EUROPEUM Institute for European Policy
Contact: lnajslova@europeum.org
Position: Associate Research Fellow
Country: Czech Republic

Lucia Najšlová is Senior Research Fellow at EUROPEUM Institute for European Policy, Research Fellow at Charles University in Prague, and Editor-in-Chief of 'V4 Revue', a webzine on politics and society in the Visegrád Group countries. Ms. Najšlová was previously Editor-in-Chief of the 'Zahraničná politika' magazine and Researcher for the European Studies program at SFPA in Slovakia. She holds a doctorate in political theory from the Department of European Studies and at Comenius University in Bratislava, and was OSI Fellow at University of Arkansas and Visiting Researcher at University of Oslo during her studies. She has written extensively on EU's relations with its neighbors, with a special focus on Turkey. Her research interests include external perceptions of the European Union and the East-West communication gap. She lectures at the UPCES program of CERGE-EI and at Anglo-American university in Prague.
... More information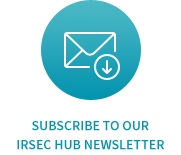 Events Calendar
Upcomings Events / Highlights
No results for this time.
Subscribe to our IRSEC Hub newsletter
Get the latest updates from IRSEC Hub partners right to your inbox.
×