Radomír Špok
Partner: EUROPEUM Institute for European Policy
Contact: rspok@europeum.org
Position: Associate Fellow
Country: Czech Republic

Radomír Špok graduated at the Faculty of Law, Charles University and continued his studies at the Institute of International Studies, Faculty of Social Sciences, Charles University. He deals with the broader aspects of the European Union with focus on EU Regional Policy. In the past he worked as the editor-in chief of the Integrace magazine and in EUROPEUM Institute for European Policy he leads several projects focused on educational and research activities. As the executive director of EUROPEUM Institute for European Policy he is responsible for financial management.
Apart from his position in EUROPEUM Institute for European Policy he is working as independent evaluator of both projects and programmes with a focus on non-governmental organizations. He isalso a member of Committee for EU which is a body of The Government Council for Non-Governmental Non-Profit Organisation.
... More information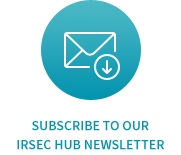 Events Calendar
Upcomings Events / Highlights
No results for this time.
Subscribe to our IRSEC Hub newsletter
Get the latest updates from IRSEC Hub partners right to your inbox.
×