István Gyarmati
Partner: Centre for Euro-Atlantic Integration and Democracy
Contact:
Position: Board member
Country: Hungary

After earning his MBA at the Budapest University for Economics. István worked at the Association of Hungarian Journalists, and the Hungarian Ministry of Foreign Affairs. He served as the Alternate Permanent Representative of Hungary to the IAEA from 1981 to 1986. After serving in various positions in Eastern Europe and the Balkans, he became Deputy Secretary of State for Integration at the Ministry of Defense in 1996 then Undersecretary for Policy in 1998. He held top leadership positions at the Organization for the Prohibition of Chemical Weapon, the EastWest Institute, and the OSCE/ODIHR Election Monitoring Mission in Moldova. He was President and CEO of the ICDT since 2005 and became President of the Centre for Democracy Public Foundation in 2011. Since 2013 István serves as the Chairman of the Advisory Board of the UN Secretary General on Disarmament Matters, member of the IISS Council, and the President of ICDT, again.He earned his PhD at the Hungarian Academy of Science and habilitated at the Zrinyi Miklos National Defense University.
... More information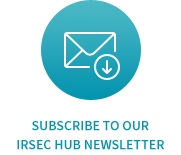 Events Calendar
Upcomings Events / Highlights
No results for this time.
Subscribe to our IRSEC Hub newsletter
Get the latest updates from IRSEC Hub partners right to your inbox.
×