After Ukraine, Countries That Border Russia Starts Thinking About Deterrents
Partner: Prague Security Studies Institute
Source: Newsweek
Author: Elisabeth Braw
Language: English
Jiri Schneider, PSSI's Director of Special Projects and Senior Fellow, in American Magazine Newsweek about new context to NATO deterrence.
... More information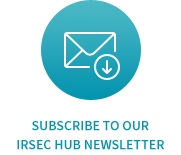 Events Calendar
Upcomings Events / Highlights
No results for this time.
Subscribe to our IRSEC Hub newsletter
Get the latest updates from IRSEC Hub partners right to your inbox.
×