Articles
Oct 05, 2015
Zeman's proposla to deal with Islamic terrorism is not original and inapplicable for the situation in Syria.
Sep 21, 2015
The migrants and refugees streaming into the European Union have cast a dark shadow on the Schengen agreement: when everyone enjoys freedom of movement, it isn't possible to regulate the number of people in any one EU member state.
Jul 20, 2015
The article outlines current worldwide trends in terrorism and political violence. It argues that 'terrorism' conventionally understood remains a marginal risk. The 'terrorists' we should be concerned about, instilling fear in people to further their poli
Global Security, Middle East, Czech Republic, Europe, Migration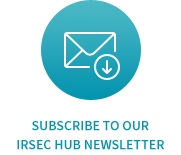 Events Calendar
Upcomings Events / Highlights
No results for this time.
Subscribe to our IRSEC Hub newsletter
Get the latest updates from IRSEC Hub partners right to your inbox.
×