GLOBSEC Challenge
Partner: Central European Policy Institute
Deadline: May 04, 2015
Type: Call for Proposals
Eligibility
Students of undergraduate, graduate or higher degree from Slovak Republic, Hungary and Czech Republic under the age 30
Requirements
The contributions should incorporate at least one of the following criteria:
promote transatlantic and international understanding
foster the development of a shared sense of transatlantic identity and cooperation
identify strengths and weaknesses of the transatlantic cooperation
provide effective way of feedback of young people to policies of current leaders in the transatlantic region
The projects can include but are not limited to essay (800 -1200 words), short video commentary (min. 5- 10 minutes) or cartoon.
Topics
NATO in the 21st Century: From Tanks to Little Green Men
Countering the Kremlin's Information War
NATO: Still the Beating Heart of the Transatlantic Relationship?
How to Engage Young Professionals in Securing the Values of Our Alliance for the Future?
Description
... More information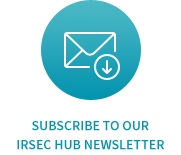 Events Calendar
Upcomings Events / Highlights
No results for this time.
Subscribe to our IRSEC Hub newsletter
Get the latest updates from IRSEC Hub partners right to your inbox.
×