Panorama of global security environment 2015-2016 - additional call
Partner: Centre for European and North Atlantic Affairs
Deadline: Dec 15, 2015
Type: Call for Proposals
Eligibility
Priority topics of additional call:
Migration crisis
Middle East
Iranian nuclear deal
Russian, French and US presence in Syria
British security strategy review
Terrorism after Paris attacks
Ukraine
Sahel
disputes in Chinese sea
Turkey
South Caucasus
Requirements
If you would like to contribute to Panorama 2015-2016, please send an abstract via e-mail to publications@cenaa.org by December 15, 2015. Abstract in English should be between 200 and 250 words long and submitted in .doc format. Please include your full name, e-mail address and institutional affiliation.
Description
... More information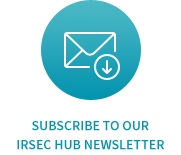 Events Calendar
Upcomings Events / Highlights
No results for this time.
Subscribe to our IRSEC Hub newsletter
Get the latest updates from IRSEC Hub partners right to your inbox.
×