Panorama of global security environment 2015
Partner: Centre for European and North Atlantic Affairs
Deadline: Feb 16, 2015
Type: Call for Proposals
Eligibility
The structure and the topics of the Panorama 2015:
1. Euro-Atlantic Area:
Consequences of the Russian-Ukrainian war for the European security architecture
NATO Wales Summit 2014 outcomes – A year after: Reality check
Impact of US pivot to Asia-Pacific on transatlantic relations
Future concepts of NATO Partnership – the search for an individual approach
NATO -Russia relations after Ukrainian crisis – From strategic partner towards a strategic competitor
NATO-Ukraine relations – Partnership or membership?
Strategic future of the V4 after Ukrainian crisis – Convergence or divergence
Sweden/Finland and NATO
Baltic states – Narva syndrome? How to react to "new warfare" in the context of the Article V.?
2. Eastern Europe:
Eastern Partnership: Year and a half after the Vilnius Summit – Reality Check
Eastern Partnership – Riga Summit
Russia – The dynamics of Russian defense doctrine
SSR in Ukraine
The impact of Russian-Ukrainian war on the foreign policy priorities of Ukrainian public
Annexation of Crimea and its consequences for the military balance in Black sea region
Domestic policy in Ukraine
Moldova – Transnistria
Georgia: Escalation or deescalation of the Armenian-Azerbaijani conflict
Changes in the military conflict: Armenia – Azerbaijan
Georgian foreign policy – President and Prime Minister?
Turkish approach towards ISIL, Kurds, Syria
Kazakhstan after Nazarbajev (Is there a future for Kazakhstan?)
Russian propaganda and strategic communication
3. Middle East and Africa:
Egypt, Saudi Arabia, Jordan, Gulf States Alliance against ISIL
Economic background of ISIL
The struggle of Iran and Saudi Arabia over Iraq
Renewed presence of the United Kingdom and France in Gulf region
Current dynamics of the nuclear program of Iran
Israel's defense doctrine changes after ISIS, Syria
Egypt – the end of Arab Spring – Reality Check
SAHEL European intervention
Nigeria
South Africa – Security provider in South and East Africa?
Iraq – Factor of stability in the region – what needs to be changed?
4. Asia and Pacific:
American pivot – Reality Check
Japan – Transformation of the US- Japan Alliance towards a more individual foreign policy
Japan – Australia – India – US – Strategic Quadrilateral relationship
India and ASEAN
Russian-Ukrainian war – Consequences for China
Afghanistan after 2014 – Reality Check
China's foreign policy towards Pacific Islands
India – towards "Raj" around the Indian Ocean
5. Arctic:
Spillover effect: How has the Ukrainian war influenced cooperation between Arctic countries?
Future challenges of Arctic security
The effect of sanctions imposed on Russia and future Arctic development
Newcomers like China or Japan and the prospect of their engagement in the Arctic
Territorial claims to the North Pole – economic stakes or domestic politics?
6. New Threats:
Deradicalization and Exit Programmes: Successes and Challenges
Radicalization on the Internet and Social Media; Countering the Propaganda Online
"Reluctant Radicals" – Soft Supporters of Right-Wing Extremist Parties
The Phenomenon of "Foreign Fighters"
Extremism and Terrorism after Paris attack
The role of social media in International Relations
Cyber Security after NATO Wales Summit 2014
Energetic issues in International Relations (Russia and Eastern Europe)
Requirements
If you would like to contribute to Panorama 2015, please send an abstract via e-mail to publications@cenaa.org by February 16, 2015. Abstract in English should be between 200 and 250 words long and submitted in .doc or .rtf format. Please include your full name, e-mail address and institutional affiliation.
Description
... More information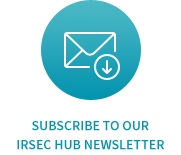 Events Calendar
Upcomings Events / Highlights
No results for this time.
Subscribe to our IRSEC Hub newsletter
Get the latest updates from IRSEC Hub partners right to your inbox.
×