The future of alternative engines in personal transport
Partner: Institute of Energy Economics
Event date: May 02, 2016
Deadline for registering: May 02, 2016
Venue: Room NB C, University of Economics in Prague, nám. W. Churchilla 4 130 67 Praha 3, Czech Republic
Category: Conference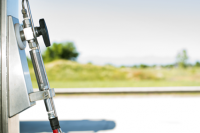 The Institute of Energy Economics would like to invite you to a conference called "The future of alternative engines in personal transport". The conference will touch many progressive and high-tech issues concerning the specific attitude of firms BMW, Skoda Auto and Volvo to the alternative engines and, further, it will give you a look into the near future.
During the whole afternoon, all the companies will exhibit their real representatives (BMW i3, Skoda Auto CNG and Volvo XC90 Twin Engine) in the field of unconventional fuels.
Come to explore the future of car industry!
The participation at this event is counted to the IEE Certificate.
... More information
Keywords: Czech Republic