Public lecture: The Iranian Regime as a Threat for the World Security
Partner: Prague Centre for Transatlantic Relations
Event date: Apr 23, 2015
Deadline for registering: Apr 21, 2015
Venue: Jungmannova 17, 110 00 Praha 1, Czech Republic
Category: Lecture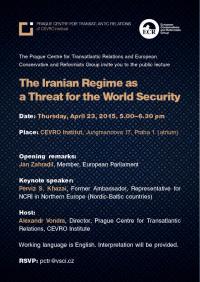 The Prague Centre for Transatlantic Relations of the CEVRO Institute and European Conservatives and Reformists Group invite you to the Perviz S. Khazai´s public lecture "The Iranian Regime as a Threat for the World Security". The event is held on 23th April at 5pm in the atrium of the CEVRO Institute (Jungmannova 17, Prague 1).
Mr. Perviz S. Khazai is a former Iranian diplomat and current representative for NCRI in Northern Europe. The lecture will be opened by the president of the Alliance of European Conservatives and Reformists (AECR) and member of the European Parliament, Mr. Jan Zahradil. Host of the event is the PCTR director Alexandr Vondra.
The invitation card is available here.
... More information
Keywords: Energy Security, Economic Security, Global Security, Oil and Gas, USA, EU, United Nations, Middle East, Syria, Iran, Israel, Afghanistan