Public lecture: The Middle East in 2015
Partner: Prague Centre for Transatlantic Relations
Event date: Feb 19, 2015
Deadline for registering: Feb 18, 2015
Venue: Jungmannova 17, Praha 1, Czech Republic
Category: Lecture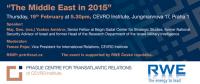 The Prague Centre for Transatlantic Relations of the CEVRO Institute would like to invite you to the public lecture with Maj. Gen. (res.) Yaakov Amidror about the Middle East in 2015. The lecture will take place on 19th of February at 17:30 in the atrium of the CEVRO Institute (Jungmannova 17, Praha 1).
Mr. Yaakov Amidror is the Senior Fellow at Begin Sadat Center for Strategic Studies, former National Security Advisor of Israel and former Head of the Research Department of the Directorate of Military Intelligence. The moderator of the event will be the former Czech Ambassador to Israel and current Vice President for International Relations of the CEVRO Institute, Mr. Tomáš Pojar.
Due to organizational matters we kindly ask you to confirm your participation by email (pctr@vsci.cz). The event is supported by RWE Česká republika.
The invitation card of the lecture is available here.
... More information
Keywords: Global Security, USA, NATO, EU, Middle East, Syria, Israel, Europe