think.BPSDT - Young Leaders' Forum 2020
Partner: Antall József Knowledge Centre
Event date: Mar 23, 2020 - Mar 26, 2020
Deadline for registering: Feb 02, 2020
Venue: Budapest, Hungary, Hungary
Category: Other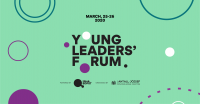 The main purpose of YLF is to foster a lively dialogue among young innovators, inventors, entrepreneurs, PhD researchers, policy experts active in public administration, and young professionals working at companies that are investing in innovative projects. During the four-day event, participants have the opportunity to exchange best practices, experience, ideas, and knowledge, and improve their skills through panel discussions, seminars, and workshops.
The programme of YLF 2020 is focusing on issues connected to environment and innovation. There are two main topics to be discussed in different formats during the forum:
– The responsibility of social media and the internet in influencing public perceptions of environmental issues and the spreading of information
– The role of science, technology, and innovation in shaping the future of water as a key global resource.
... More information
Keywords: Energy Security, Water, Media, Propaganda/Disinform