Here We Come! - Conference on Talent Management and Youth Perspectives in the Western Balkans
Partner: Antall József Knowledge Centre
Event date: Jun 19, 2018
Deadline for registering: Jun 18, 2018
Venue: Hilton Brussels Grand Place Hotel. Carrefour de l'Europe 3, 1000 BRUSSELS, BELGIUM, Hungary
Category: Conference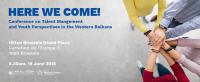 Youth unemployment is one of the main drivers of emigration of young people all over the Balkans. The mass exodus of youth from the Southeast European neighbourhood is a severe consequence of sectoral problems, strongly related to unemployment, higher education systems, as well as to the job market conditions. In addition, these countries are also facing brain drain. In this complex situation, the role and importance of social responsibility and entrepreneurship are becoming more and more significant.
We are organising this interactive conference to ensure that the voices of youth are heard, as well as to find a way to introduce best practices. We believe that the Western Balkans has a huge potential rested on the will of its youth.
The invited speakers will answer these very specific questions in the presence of Commissioner Johannes Hahn, responsible for European Neighbourhood Policy and Enlargement Negotiations and Commissioner Tibor Navracsics, responsible for Education, Culture, Youth and Sport.
In a roundtable discussion, six young speakers from the Balkans will set the scene while presenting current perspectives and challenges. Afterwards, a workshop will take place, where the hosts and the participants will exchange their views on the possibilities of knowledge transfer, innovation, and entrepreneurship. In the afternoon, experts from the Western Balkans and Members of the European Parliament will provide answers to the questions in the course of two panel discussions.
▪▪▪ The event is public, but registration is needed.
REGISTER HERE: http://www.ajtk.hu/program-registration/233 ▪▪▪
... More information