The Czech Republic's Strategy for Competitiveness 2015
Partner: Centre of European Studies, University of Economics, Prague
Event date: Sep 18, 2014
Deadline for registering: Sep 17, 2014
Venue: University of Economics, Prague, Czech Republic, Czech Republic
Category: Conference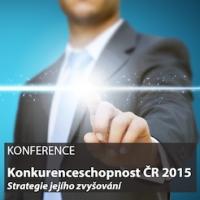 The event will discuss results of the Global Competitiveness Report for the Czech Republic and its implications in the context of business environment, sustainable development, institutions and good governance and other crucial issues.
Interactions of businesses, representatives of relevant institutions, academia and international organizations who directly or indirectly involved in building of competitive business environment in the Czech Republic will offer an unique opportunity, where visions and various perspectives will be presented and discussed.
Please register as soon as possible, seats are limited. You will find more information on www.wef.cz
The conference is organized under auspices of the Minister of Industry and Trade of the Czech Republic, Mr. Jan Mládek.
Main organizers: Faculty of International Relations, VŠE in cooperation with the CMC Graduate School of Business, the Czech Managers Association and the Ministry of Industry and Trade, Czech Republic.
... More information
Keywords: EU, Czech Republic, V4, Europe