Exhibition "Forced Labor. The Germans, the Forced Laborers and the War"
Partner: Forum 2000 Foundation
Event date: Jul 02, 2014 - Oct 31, 2014
Deadline for registering: Oct 31, 2014
Venue: Royal Summer Palace, Prague Castle, Czech Republic
Category: Other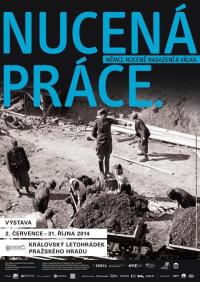 Over 20 million people were taken to Germany and the occupied territories from all over Europe as "foreign workers," prisoners of war, and concentration camp inmates to perform forced labor. The aim of Nazi Germany was Europe's domination and exploitation. Occupied territories were plundered and millions of men, women and children were deported to the German Reich.
Forced laborers were put to work everywhere – whether at construction sites, in arms factories, agriculture, crafts and private households. Every German – whether a soldier in the occupying army in Poland or a farmer's wife in Thuringia – came in contact with them. National Socialism's racist ideology was reflected in all aspects of relations with forced laborers. Nevertheless, it still provided space for free conduct. Whether a forced laborer underwent humiliation and abuse or encountered some remnant of humanity depended to an extent on the attitude and conduct of every individual. The unique traveling exhibition also explores this subject.
The exhibition is organized by the Prague Castle Administration, created by the Buchenwald and Mittelbau-Dora Memorials Foundation, in cooperation with the Czech-German Fund for the Future, initiated and financed by the Foundation "Remembrance, Responsibility and Future" (EVZ). It is co-organized by the Forum 2000 Foundation. The event partners of the exhibition also offer an extensive accompanying program, which includes interviews with survivors, discussions with experts on the topic of forced labor, film screenings, cultural events, and educational programs for schools.
The Prague exhibition is held under the patronage of the President of the Czech Republic Miloš Zeman and the President of the Federal Republic of Germany Joachim Gauck.
Opening hours: Monday–Sunday: 10.00–18.00
Admission: 80 CZK
... More information
Keywords: Russia, Slovakia, Czech Republic, Hungary, Poland, Ukraine, Education, Human Rights, Europe