The Future State of the Eurozone and its Effects on European Economy
Partner: Prague Centre for Transatlantic Relations
Event date: Jun 11, 2015
Deadline for registering: Jun 09, 2015
Venue: Jungmannova 17, Prague 1, Czech Republic
Category: Lecture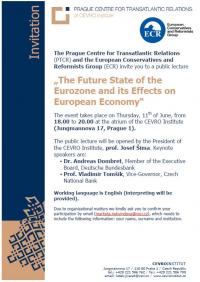 The Prague Centre for Transatlantic Relations (PTCR) and the European Conservatives and Reformists Group (ECR) invite you to a public lecture "The Future State of the Eurozone and its Effects on European Economy". The event takes place on Thursday, 11th of June, from 18.00 to 20.00 at the atrium of the CEVRO Institute (Jungmannova 17, Prague 1).
The public lecture will be opened by the President of the CEVRO Institute, prof. Josef Šíma. Keynote speakers are:
Dr. Andreas Dombret, Member of the Executive Board, Deutsche Bundesbank

Prof. Vladimír Tomšík, Vice-Governor, Czech National Bank
Working language is English (interpreting will be provided). Due to organizational matters we kindly ask you to confirm your participation by email (marketa.nekvindova@vsci.cz), which needs to include the following information: your name, surname and institution.
... More information
Keywords: Economic Security, EU, Europe